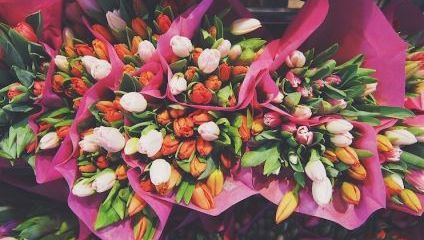 Choose from a wealth of events around the capital
Founded by New Covent Garden Market in 2013, British Flowers Week is an annual celebration of the wealth and variety of British flowers, plants and foliage. From 10 - 16 June, there's a ton of events going on around the country and here we've picked out just a few of the best ways you can celebrate in London.
---
Go flower-mad at the Royal Opera House
The Royal Opera House is hosting a veritable bouquet of events for British Flowers Week sure to take your fancy. A meadow installation will take over the Covent Garden entrance; pop-up shops will be selling posies, flower crowns and more and flower-inspired food and drink will be on offer. Performances will also embrace the flower theme, with the weekly Live at Lunch taking on the Flower Song from Carmen and a flower-themed Royal Opera House Late on 16 June. A new exhibition at the Paul Hamlyn Hall will also celebrate the role of flowers in opera and ballet.
---
Go green at the Garden Museum
Lambeth's Garden Museum is one of London's hidden gems, and British Flower Week is its time to shine. This year, New Covent Garden Market's campaign to support British-grown flowers will see five of Britain's top florists exhibit innovative installations at the Garden Museum using flowers from the Flower Market.
11 - 16 June, Garden Museum, 5 Lambeth Palace Rd, Lambeth, London SE1 7LB
---
Buy up some British blooms yourself
Deck out your home Gatsby-style or just get a nice bunch for your mum - at any florist on this list you'll be able to scoop up the most beautiful blooms in town, and all of them have a great selection of British flowers. We've included a florist in every corner of London, so no matter what side of the river you're on, you'll be able to find bunches of bunches. In South London's place of honour on our list is New Covent Garden Flower Market - who set up British Flower Week.
---
Do a bit of flower spotting of your own
Want to enjoy all the beauty of spring flowers while not spending all your dough? Lucky for you, London - which is about to become the world's first National Park City, with 47% of our city a green space - has plenty of places you can wander around taking in floral beauty for free. Check out our top five places to see spring flowers, or if you're looking for something a little more structured, why not take a look at our garden lovers' guide to London?
---
And if you're still not tired of it all after this week…
Check out Hampton Court Palace Garden Festival from 2 - 7 July. Situated in Henry VIII's majestic palace and grounds, Hampton Court Palace's Garden Festival is the world's largest annual flower show. There are workshops, live music and competitions to enjoy, as well as their famous flower marquee, water and show gardens. There's also a brand new dining experience, which includes a foraging workshop where you will be expertly guided through a wild garden to pick sorrel, rowanberries, mushrooms, elderberries and wild garlic to add flavour to your five-course meal.