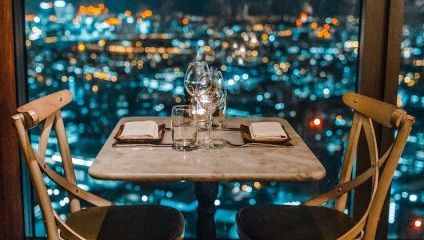 When the local pub just won't do
Just as much as you need to impress your date with your good looks and great personality, there's the added pressure of picking an exciting date location, particularly with London's seemingly endless choice of bars and attractions. Whether you want to climb through a smeg fridge or be bathed in the light of neon signs, we're here to ensure complete dating satisfaction for the next time you swipe right.
---
God's Own Junkyard
This neon wonderland in Walthamstow is a feast for the eyes and an endless conversation starter. Your date might be a little taken aback when you lead them down residential streets in the direction of a warehouse, but the pay off is a truly unique experience. God's Own Junkyard is full to the brim with weird and wonderful neon signs with various crude and hilarious slogans. Statues of Jesus stand alongside enormous heeled shoes, whilst disco balls hang low over carousel horses. Tucked inside is the Rolling Scone café, where you can enjoy coffee and cake whilst you marvel at the sight before you.
Gods Own Junkyard, Unit 12, Ravenswood Industrial Estate, Shernhall Street, London E17 9HQ
---
Museum Lates
Let's be honest, you want to convince your date of how cultured you are, and is there any better date combination than some of London's most fascinating museums and alcohol? Museum Lates have become ever more popular in the capital over the past few years, with special talks, events and music that bring a bar vibe to the museum space. If you're more of a traditionalist, explore the dinosaurs with a glass of wine at the National History Museum on the last Friday of every month, or if you want to appear more left field, you can peruse some of the Wellcome Collection's most eccentric exhibits every Thursday evening. It'll be an endless talking point for you and your date and you might even bond over a shared love of modern art, sculpture or architecture. Check out our guide to museum lates.
---
The Barbican Conservatory
An enormous concrete structure and one of the most famous examples of brutalist architecture in the UK, it might come as a surprise to know that tucked away inside the Barbican labyrinth is a tropical oasis. A cornucopia of lush green tropical plants, it's home to over 2000 species of plants and trees as well as plenty of exotic fish. It's only open on Sundays, but it's the perfect option for a more relaxed second date before heading for a chilled afternoon drink at the pub.
Silk St, London EC2Y 8DS
---
Katzenjammers
Something of a departure from the typical pub atmosphere, Katzenjammers is a slice of German bar culture in the centre of London Bridge. It's the self-confessed 'spiritual home of oom-pop' with energetic brass bands playing at the weekend, as well as an extensive selection of German beers (if you're feeling brave or the date might be going badly, order your drink in an enormous 2 pint stein glass). If you're feeling peckish, you can even enjoy a schnitzel or two in the Bierkeller and Restaurant. It's the ideal relaxed atmosphere for a date night that isn't too stuffy.
The Hop Exchange, 24 Southwark St, London SE1 1TY
---
The Mayor of Scaredy Cat Town
When you have to say a password to gain entrance to a place, you know it's going to be exciting. The Mayor of Scaredy Cat Town is as gloriously eccentric as its name - ask for 'the mayor' before being whisked through a smeg fridge into the club, where you can sit on Victorian furniture and enjoy some creatively named cocktails, including 'Creamy Nuts' and 'Naked in Madeira' that are guaranteed to be a hilarious talking point for you both all night. Take the person you're trying to impress here to show them that you know all of the glamorous secret bars and speakeasies in town. Find more secret bars and clubs in our guide.
12-16 Artillery Ln, London E1 7LS