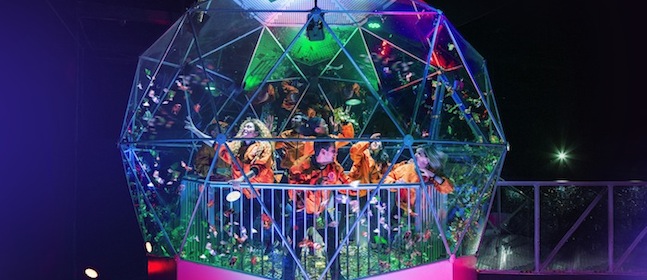 Exciting quest for adventurous explorers
Escape room challenges have become ever more popular and elaborate with some of the quests bordering on an immersive theatre experience. Perfect for a team building office day out and much more physical and exciting than a trip to the pub for a day spent with friends, here are our top tips for escaping everyday London and immersing yourself in a race against the clock.
---
Time Run
The team behind Time Run create escape room experiences with some of the highest production values around. Never satisfied with just locking you up in a room, they take time and effort to build a whole world full of atmosphere and detail that should excite even the most spoilt cultural connoisseurs. The 'Lance of Longinus' challenge is a time travelling voyage through forgotten and undiscovered worlds on a quest for an object of unfathomable power. This quest is quite family friendly with children over the age of 10 welcome under supervision. Designed for 3-6 players, you become the protagonists in your own cinematic adventure while you run through history against the clock. Time Run will close by 25 April to prepare for the next top secret adventure so make sure you catch it before.
Aubrey in the briefing room (c) Time Run
Time Run is at 9-15 Helmsley Place, E8 3SB and tickets are £35 per team member
---
The Crystal Maze LIVE Experience
Fans of the popular 90s TV show will know exactly what to expect here: run around like loons, complete a variety of tricksy challenges and end up wearing some sensational satin bomber jackets. What more could you possibly want? The more challenges you complete successfully, the more Crystals you win and the more time you'll have for the final test in … drumroll… The Crystal Dome. If you ever fancied competing in the TV show yourself this will be a childhood dream come true.
(c) Crystal Maze LIVE Experience
The Crystal Maze LIVE Experience is at b10-14 White Lion Street, N1 9PD and tickets are £54.50 per person
---
Enigma Quests: The School of Witchcraft and Wizardry
Attention all Potterheads: do you secretly believe your magical abilities exceed those of normal muggles? You now have a chance to graduate from the School of Witchcraft and Wizardry and prove to everyone that you are a true witch or wizard. Instead of escaping, the goal here is to pass six exams on your way to becoming a wizard, including Runes, Potions, Charms and, of course, Defence Against the Dark Arts. Your team will face obstacles and tests requiring cooperation and bravery and of course every minute counts.
(c) Enigma Quest: School of Witchcraft and Wizardry
Enigma Quests: The School of Witchcraft and Wizardry is at 2-12 Wilson St, EC2M 7LS and tickets start at £90 per team
Moriarty's Game
HiddenCity prize themselves on turning a city into an experience. Their variously themed scavenger hunts take players all over the city while simultaneously educating them about little-known areas of London. In this Sherlock Holmes inspired challenge, the famous detective's arch nemesis Professor James Moriarty invites you to solve a trail of clues that you will receive as messages directly to your phone. In teams of up to four people, explore exhibitions celebrating contemporary architecture, drink in Georgian public houses or scrutinise 15th century art in a Mayfair townhouse while you try to find Moriarty's safehouse. Rather on the difficult side, this challenge is for over 18s only and will take 3-4 hours including two breaks.
Moriarty's Game (c) HiddenCity
Moriarty's Game starts at The Marylebone, 93 Marylebone High Street, W1U 4RE and tickets are £60.00 per team
---
No Escape London
Tapping into people's common fear of the dentist, this horror themed experience will have you trapped in a murderous orthodontist's surgery. You have one hour to escape from the deranged Dr. Basher, using teamwork and quick thinking to survive. Groups of 4-6 are ideal for this intense experience and with only a 20% success rate you'll need your wits about you to escape.
(c) No Escape London
No Escape London is at 51 Oxford Street, W1D 2EF and tickets start at £85 per team