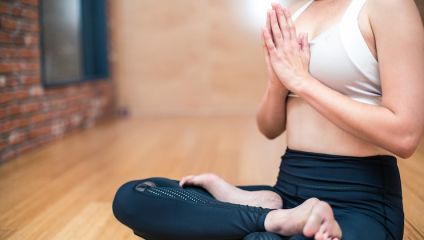 Relax... here are five ways to counter stress in London, from meditation sessions to drop-in drawing.
Mindfulness is a great tool to ground yourself in the bustle of a busy world. If you're looking for a way to counter the stresses of day to day life, here are five great (and free) ways to relax and unwind.
Lunchtime Meditation
Pop in to Inner Space centres in Covent Garden or The City for a free half-hour lunchtime meditation session. You will be guided through a mind and body relaxation designed to leave you with a positive and peaceful state of mind. Inner Space describes itself as 'London's oasis of calm and insight' and their well timed 1pm sessions are the perfect way to relax during a busy week at work.
For more information, please see the website.
Chelsea Physic Garden
A beautiful, peaceful spot near the Thames, Chelsea Physic Garden offers a wonderful contrast to the hustle and bustle of London. The garden's warm microclimate allows many non-native plants to flourish there, and makes it a pleasant place to visit even in the winter. Home to around 5,000 different plants, the garden was founded in 1673 to train apprentice apothecaries to identify plants. There are still hundreds of medicinal plants in the garden, but it is the hushed, peaceful atmosphere that will restore and rejuvenate you.
For more information about Chelsea Physic Garden, please see the website.
The Wellcome Collection
The Wellcome Collections' current exhibition 'Joy' shares with you a diversity of euphoric experiences and the effect of positive emotion on the body. Joy can bring catharsis, build resilience and bring people together. This exhibition begins at the Wellcome Collection in January 2021. This exhibition is sure to be uplifting for the soul and inspires you to explore the diversity of euphoric experiences and the effect of positive emotion on the body. Visiting this exhibition should really ground you.
For more information about the Wellcome Collections' upcoming exhibitions, please see the website.
Re:Mind a meditation, healing and breathwork studio.
Located in the heart of Belgravia, Victoria, this studio provides a space for you to recover, heal and transform from any stresses and busyness of city life. They offer a variety of sessions focusing on meditation, healing or breathwork. Whether you're in the mood for a sound bath or want to move your body in a restorative flow — they offer a type of session that's best suited to your personal needs.
For more information, please see the website.
Silence Sessions
Escape the stress and drop your responsibilities for a time at weekly Silence Sessions from 17.30 until 19.00 every Friday. The concept is simple; a silent space away from technology and outside influencers where you can simply be. The sessions are currently run virtually; all you have to do is simply tune in, sink into the silence, and leave the session whenever you feel like it. Whether you use this time to meditate, pray or ponder, you'll come away refreshed and relaxed.
For more information on weekly Silence Sessions, please see the website.