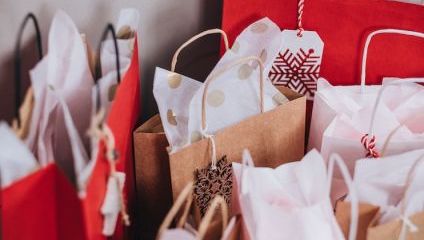 London Calling recommends five places for Christmas shopping offering a more cultural alternative to the usual stampede.
The Oxford Street Christmas Lights are on, Halloween and Bonfire Night are over, and pubs are starting to serve mulled wine; which means it's time to start thinking about your Christmas shopping. If you can't face the idea of struggling through the crowds at Oxford Circus, here are our top 5 ideas for alternative Christmas shopping trips, all with a cultural twist of course.
---
A peaceful wander through the V&A Museum followed by a mooch around their lovely gift shop is the antithesis of normal stressful Christmas shopping. With gorgeous products inspired by the museum's collections including books, jewellery, toys, stationery, home-ware and craft items, the V&A Shop is the perfect place to pick up some sophisticated presents for the culture-lovers in your life. There are also lots of lovely Christmas Cards on offer.
The V&A Shop is open daily until Christmas Eve
---
Cockpit Arts Open Studios
This year, Cockpit Arts are running Christmas Open Studios in two locations; Holborn and Deptford. Come along to see behind the scenes in the artists' studios and find out how the beautiful objects on display were created. There will be plenty of opportunities to buy arts and craft pieces, as well as late night shopping openings on Thursday evening; ideal for picking up a completely unique gift for someone special.
29 November - 1 December in Holborn, 6 - 8 December in Deptford
---
Brixton Village
If you're not a fan of large, soulless shopping centres, head to Brixton Village where you'll find a collection of tiny independent shops selling art, gifts and vintage items. The Brixton Maker's Market takes place on the second Saturday of each month, converting Brixton Station Road into a fabulous market of handmade crafts and contemporary art. This year, the December Maker's Market falls on 14 December, giving you plenty of time to sort your shopping before Christmas.
14 December
---
Columbia Road is famed for being one of very few streets in the country with such a wealth of independent shops (over 60) and, of course, for its flower market on Sundays, which sees the people of London pack the road to grab some blooms from the many stalls. This year, they're holding a series of Christmas late events where the shops will stay open well into the evening and you'll be able to pick up a Christmas tree as well as listen to live carols - festive!
4, 11, 18 December
---
Check out a Christmas Market
Of course, the ultimate in Christmas shopping experiences is the Christmas market, and since London is overflowing with them in every form, from zero-waste to high-end art to foodie heaven, there's no excuse not to head to one near you. We've distilled the best of London's Christmas market offerings into one helpful list so you can find one. Grab a mulled wine and get browsing.