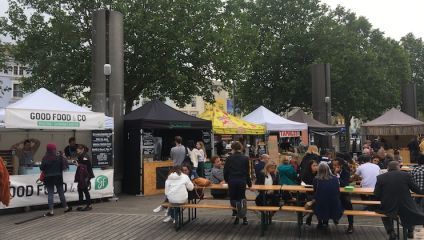 Embrace the hustle and bustle at these foodie markets
One thing that is certain about Bristol is that there is a lot of cars. Part London exodus, part natural growth Bristol's streets have quickly filled up with vehicles of all types. At times this can be restricting, but fortunately, another truth of Bristol is that we love a good market. Close your vehicle door and march out on your own two feet. Find yourself a market, a drink, some food… and relax. For once, park yourself, not your car.
---
Harbourside Street Food Market
The best way to start most things is to start with the centre, and then move outwards. So, the first on the list is the Harbourside Street Food Market. Situated (you guessed it) on the Harbourside, right next the water and just about everything else you want to see in central Bristol. Visit the market from midday till 2:30pm on a stroll-worthy & sunny day for an excellent flavour-of-the-week lunch. Particular stars include traders such as Wood Chop Pizza, the anti-gluten & dairy pioneers Good Food & Co. and Smoked Vegan (the food, not the people!). Make sure to eat your bounty on the Cascade steps and marvel at the tourist' excitement as they board the City ferry. The joy!
Visiting Hours: Wednesday & Thursday 12pm - 14:30pm / Saturday & Sunday 11am - 16:00pm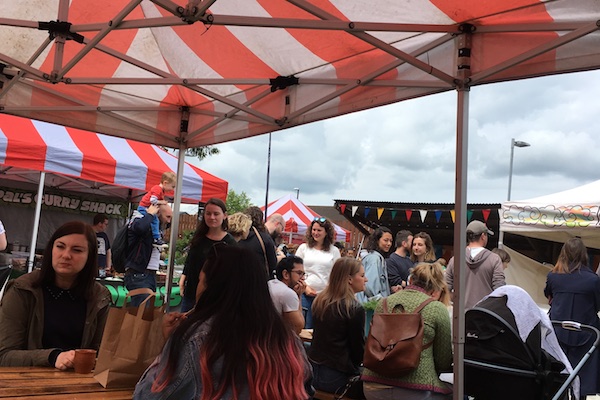 ---
Sunday Market Tobacco Factory
A lively hub of all things local food and drink, North Street's inevitable epicentre is the Sunday Market Tobacco Factory. For locals, this is the charming kind of place where you run into everyone you know. For tourists, it likely feels a bit like a school fayre with unusually good food. Situated in the Tobacco Factory carpark (which is a buzzing bar, exhibition, music venue), expect to see rotating stalls across all food genres. At last visit, Farro Bakery stole the show but do not walk past local pedigree Rolling Italy (excellent arancini), Nutcessity (dreamy nut butters), Five Acre Farm and Stokes Croft's Moist (hummus aficionados). Outside of food, you can buy plants, vintage finds and natural toiletries. Bring a reusable bag - and fill your boots!
Visiting Hours: Every Sunday from 10:00am till 2:30pm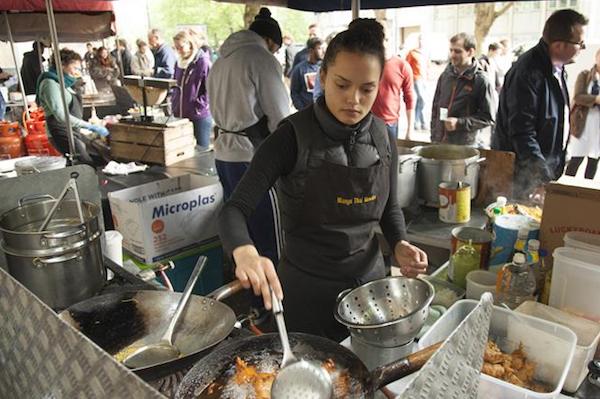 ---
St Nicholas Market
Arguably Bristol's busiest and most beautiful market, St Nicholas Market is famous for many things - it's history (est. in 1743!), its glass roof, it's location in the heart of Bristol's Old City - but it's certainly not slobby when it comes to food offerings. Positioned next to a wealth of florists, textile and book sellers are a plethora of market-sized cuisines. Eat A Pitta's very reasonable falafels (£5-£6) are key players in the 15-strong food stand scene, as are the now omnipotent Pieminister (originating from Bristol) and the masterful too-nice-to-eat cake baker Aah Toots. Loyalty should not be rewarded here as St Nicks is better treated like speed dating. Avoid the longer queues and get involved.
Visiting Hours: Open Monday to Saturday, 9.30am - 5pm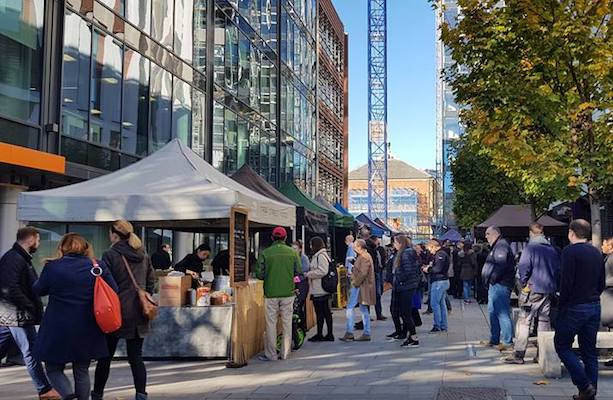 Image credit: Finzels Reach Market via Facebook
---
Finzels Reach Market
At just two years old, the newest and last market in this round-up, Finzels Reach Market is to be found close to the snaking water, on Old Temple Street which is perhaps an odd name given the modern glass-and-steel redevelopment that has enveloped the area. Local street food pros Murray Mays (kebabs), The Little Taquero (tacos) & Philly Cheesesteaks - all mightily capable of lighting up your lunch-time munch-time. Suns out, buns out!
Visiting Hours: Visit Friday, 12:00pm - 14:00pm