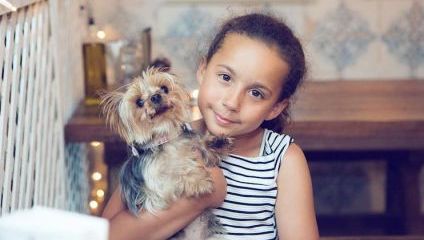 These places serve slap-up grub while treating your canine pals like the princes and princesses they are
These places serve slap-up grub while treating your canine pals like the princes and princesses they are
---
Spotlight on: Megan's (at the Power Station)
Megan's cafés are known for their love of man's best friend as well as their tasty food. They love doggos of all shapes and sizes, and each of the Megan's cafés across London offers dog biscuits, water bowls and even a dog bed if your beloved pup has got tired legs.
So your dog will certainly be happy, but what about the human side of things? Well, Megan's is best known for its breakfasts, with their eggs benedict and coconut cappuccinos ever-popular, as well as their avocado and poached eggs on sweet potato toast. But it's also not to be missed later on in the day: if you decide to pop in at lunchtime you'll find a fresh salad bar and organic sandwiches to eat in or take away, or a wonderfully indulgent afternoon tea with delicious homemade cakes. Megan's also put on a blinder of a bottomless brunch, with 90 mins of unlimited Pimm's, prosecco & Bloody Megans (wink) for 18 quid per person.
Megan's is also known for its adorable décor, and the new Battersea location is looking just as sweet as the rest. Opening on the 8thMay, the interiors are already looking stunning, with pastel blue tiles and white roses climbing the walls. And with more locations in Fulham, Parsons Green, Balham and Clapham, there's sure to be somewhere nearby for you to take your furry friend.
'Great for a rest post-London Fields walk'. Image © L'eau à la bouche via Facebook
Best of the rest:
---
L'eau à la bouche
What? Un café français, oui oui
Where? Broadway Market
Why? They love les chiens, and you will not be able to resist the fromages on the counter. Sit outside or by the floor-length windows on a Saturday and watch the world go past as Broadway Market thrives. Great for a rest post-London Fields walk
---
Pizarro restaurant
What? Creative Spanish restaurant
Where? Bermondsey Street
Why? With a bowl of water and the delicious yapas - sorry, tapas - you'll both be very happy. Sneak your pooch a little taste of the meatballs - heaven!
---
What? A big, friendly pub with a covered outdoor area
Where? Homerton
Why? The pub is very dog-friendly and has a wide selection of treats on display in jars outside, and you can choose from any of them to give your pup something to chew on while you enjoy a pint. Head to the Hackney Marshes beforehand to work up your appetites
---
Abuelo
What? Latino-Australian café
Where? Covent Garden
Why? If you're in Central London and need a pit-stop for you and your furry pal, this is the place to go. The café is home toAnnie the Goldendoodle, who will greet you and your pooch on your way in, and all dogs will be suitably fussed over